I know there are a few people out there who could use a few parts for their vintage CAT projects. These items are surplus after my own build projects and I am looking to sell off what remains.
Many of these parts here start from the earliest of Schumacher's 4WD model the SWB CAT. Im happy to take more detailed pics of anything specific you are after.
Some parts are still new while others are used. Each item has been carefully cleaned and inspected for excessive wear of breakage. All the rubbish went into the bin so what's on offer is still more than serviceable.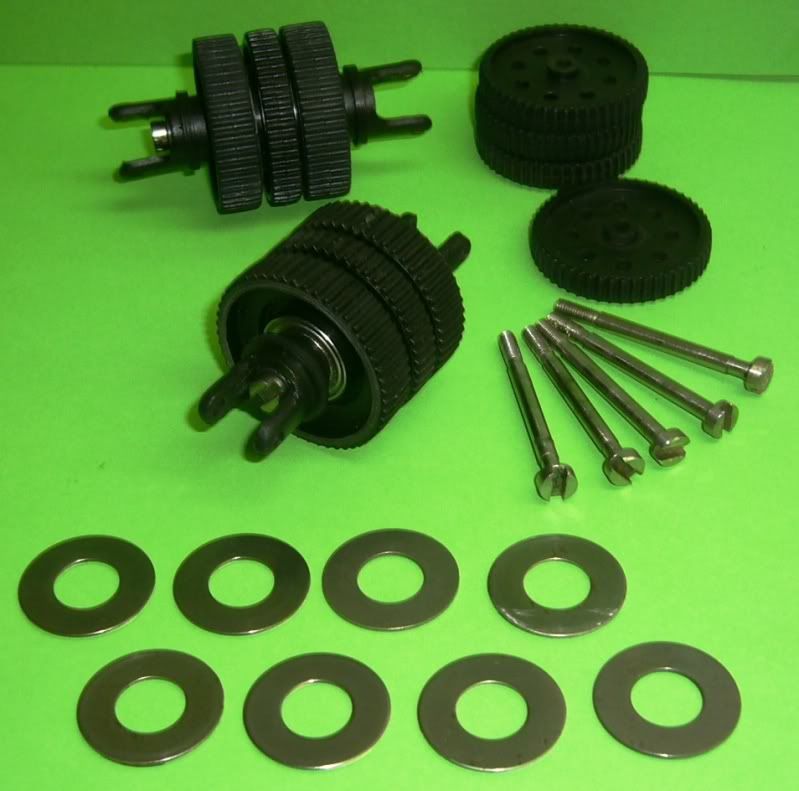 CAT rear 'INTEGRATOR' differentials. These were utilised in the SWB, XL and XLS Cats. I have 2 Integrator diff's that have been rebuilt and regreased ready for use. They both include metal sheild bearings $25 ea (used)
T033 diff centre pulleys $2 ea(used)
T084 rear axles $1 ea(used)
T520 diff rings $2 pair (used)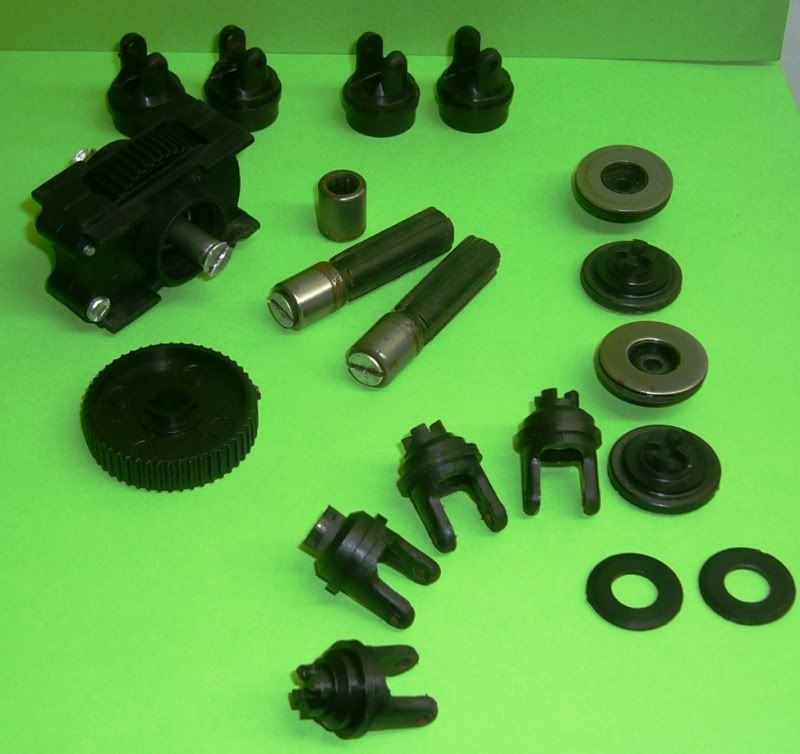 SWB or XL Front diff housing has the 'locked/spool' $25 (used)
T034 Spool pulley $10 (new)
T029 'one way' joint (fits over the one way bearing-note* These usualy crack over time but these are unracked) $10 ea (new) $7 ea (near new)
T031 Hub $1 ea (used)
One Way drive shafts (male) with extra bearing $10 for the lot (used)
T519 XLS front/rear diff outdrives (2x pairs with 1 pair of diff rings) $10 for the lot (used)
Layshaft 'complete' $20 (used)
T087 diff carriers $2 ea (new)
53 tooth spur $7 (new)
55 tooth spur $7 (new)
58 tooth spur $7 (new) $4 (used)
60 tooth spur $7 (new) $4 (used)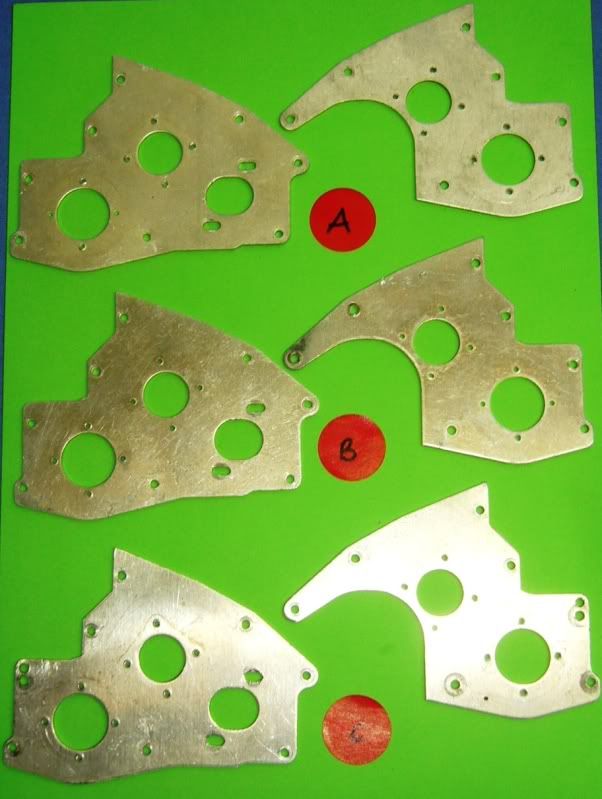 T072 Gearbox side plates. They vary in condition so I have graded them from A to C according to condition with A being the best pair.
Pair 'A' $18
Pair 'B' $15
Pair 'C' $12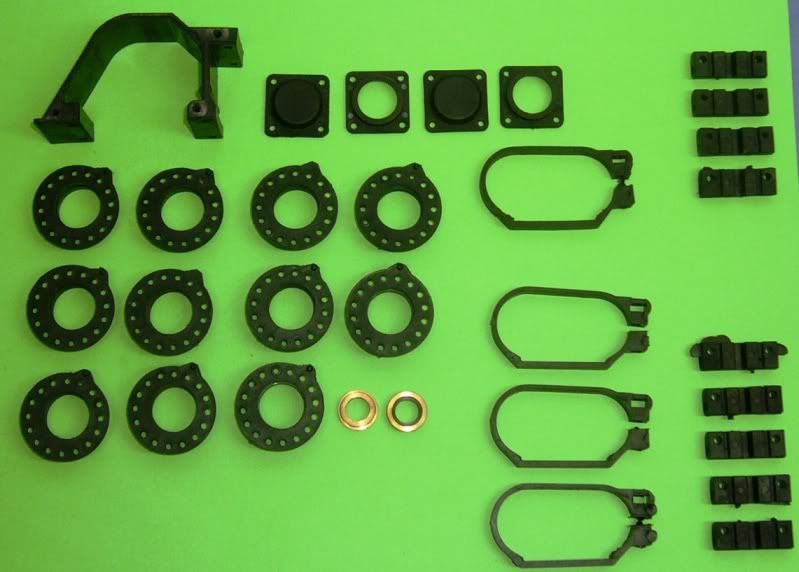 T070 Inner trans housing $10 (used)
T081 Eccentric bearing housings $2 ea (used)
T083 & T082 Diff bearing housings $10 pair (used)
T076 Mounting bracket $7 ea (4x new) $5 ea (4x used)
C058 Battery clamps $10 ea (3x new) $7 (1x used) PENDING!!!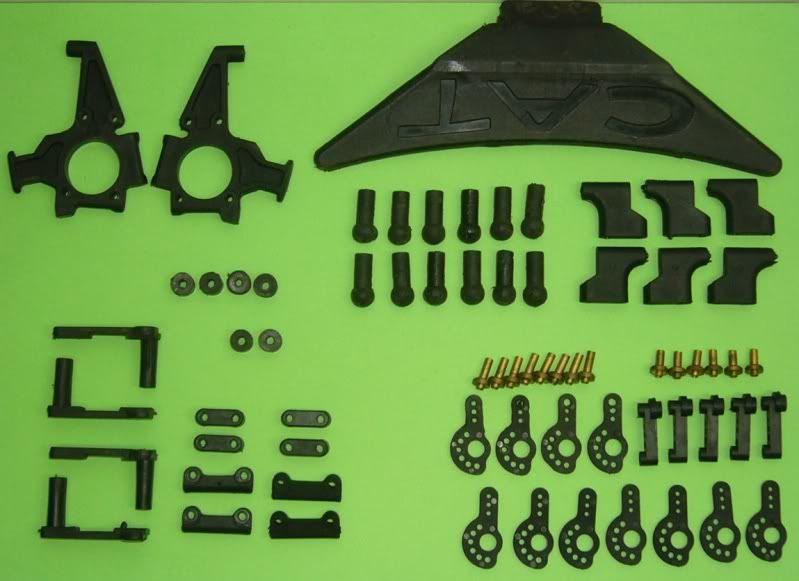 T156 XLS pivot bracket '15 degree rake' $15 pair (used)
T056 & T057 Front suspension brackets $20 set (used)
T058 Arm, front suspension $12 pair (3x new)
T160 & T161 XLS arm spacers $17 pair (new) $13 pair (used)
T098 Steering lever $5 (7x new) $2 (4x used)
T099 Radius arms $3 ea (3x new) $2 ea (2x used)
T139 Pivot bush short $1 pair (3x used)
T140 Pivot bush long $1 pair (4x used)
T100 Ball sockets $1 pair (6x used)
'CAT' front bumper $10 (used) *I think this bumper might be from a much later 2000 series buggy?
A215 XLS rear spacers $2 lot (used)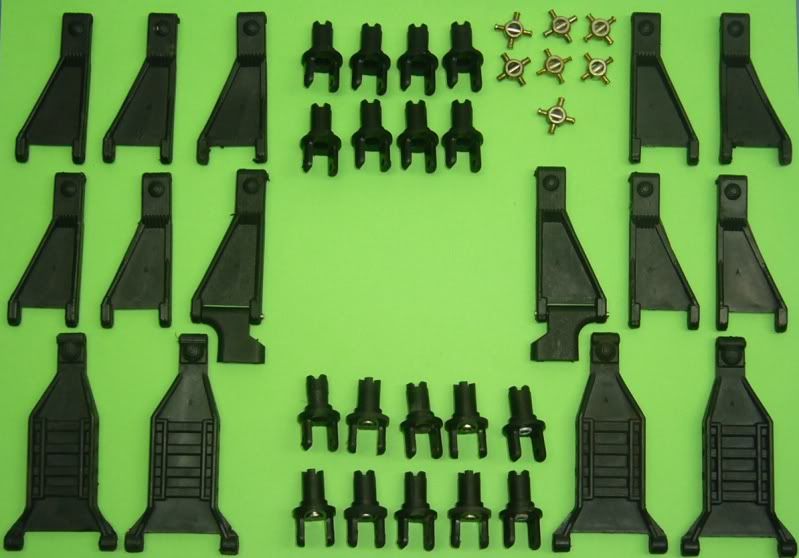 T111 & T112 Lower suspension arms $15 pair (2x used)
T109 & T110 Upper suspension arms $5 ea (11x used)
T030 Wheel hub $2 ea (8x new) $1 ea (10x used)
T108 Universal crucci $5 lot (used)
T152 Long drive belt $8 ea (6x new and near new)
T129 Short drive belts $5 pair (3x used)
T027 & T028 Drive shafts lot $10 (used)
T106 Fibreglass shock tower $2 (used)
T106 Black graphite shock tower $10 (new)
T154 Fibreglass XLS suspension bracket $5 (used)
T154 Black graphite XLS suspension bracket $10 (new)
T170 Fibreglass track rod $7 (2x new) $4(used)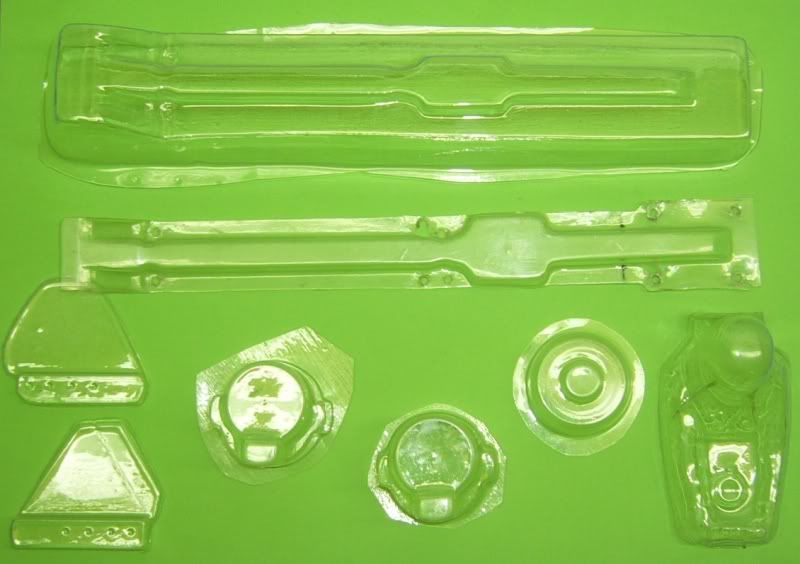 SWB reproduction lexan belt cover $5 (new)
XL & XLS lexan belt cover $5 (used)
Lexan driver figure $5 (used)
Dirt deflector plates $5 pair (new)
Lexan motor covers $5 ea (3x new